NEW MySegboard Bluetooth Range
New!

MySegboard Bluetooth Range

We have a new range of hoverboard / segways called the MySegboard Bluetooth, these are boards with 6.5inch wheels, a remote control and Bluetooth built in. With the swegway bluetooth you can connect your segway Bluetooth device to the board & stream music on the go. Not only do you get a free remote but we also ship free carry cases out with every order!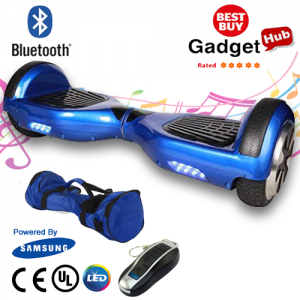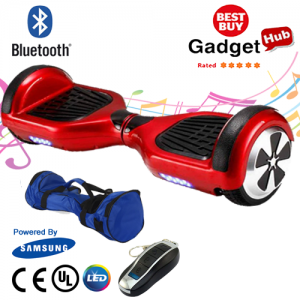 MySegboard Bluetooth – What's in the box
1x UK Approved Bluetooth Hoverboard.
1x Hoverboard Remote Control
1x CE/UL Approved UK Charger pack with UK Plug.
1x English user manual (getting started, general info).
1x Hoverboard soft carry case.
Built in Genuine Samsung Battery with Protection Circuit.
MySegboard Bluetooth Specifications
Long-life 6.5 inch wheels
Built-in Bluetooth for music streaming
Built in Remote to control hoverboard functions
Two x 250W Powerful Electric Motors
Cruise range of up-to 12 Miles
8 Hours of battery life (full charge)
Weight of hoverboard is 9.3kgs
Max weight load up-to 100kgs
Full Manufacturer's Warranty
Why our Segways / Hoverboards are Safe & Reliable
All of our boards are completely UK Safety Certified and come with Samsung batteries which ensures that it's the most reliable board you can buy within the UK. As the leading Hoverboard / Segway Retailer in the UK no one else can beat our prices and guarantees such as Guaranteed Next Day Delivery if orders are placed before 3PM Mon – Fri, 12 month electrical warranty and we also have a dedicated Hoverboard / Segway Repair Service Centre.
We currently have up to 60% sale throughout the website and on our Bluetooth Hoverboard / Segway today!
Buy your new Bluetooth Hoverboard TODAY! 
The Best Bluetooth HoverboardsLooking for a new hoverboard? UK Segboards have new hoverboards that are amazing! You can now get a hoverboard with Bluetooth from us. Sounds good, right? Segway Bluetooth hoverboards are fun! Thus, you can ride your board while listening to your favorite song. All you need to do is wear your headphone, play the song and ride the board. Moreover, you can get a good quality board at a cheap price. Remember, the Bluetooth hoverboard is expensive. But we are giving it at a cheap price. Moreover, the quality is good too. Buy your favorite ride now and enjoy songs while going on it.
Fun Ride up for GrabsHoverboards are expensive! And if you want a new one with Bluetooth, it will be very expensive. But with UK Segboards you can now get it cheap. Swegway Bluetooth hoverboards are the best. You can enjoy riding it. Moreover, listen to your favorite song also. Isn't it great? We are offering a Bluetooth hoverboard at a cheap price. Black Friday and Christmas sales are on. Hence, come and get your favorite board right now! We promise to give you the best. Furthermore, you won't get a cheap Bluetooth hoverboard anywhere else. With us, ride with fun! Get the best deal today.
Is Segway Bluetooth hoverboard good?
Cheap does not mean bad. We are giving Bluetooth hoverboard at a cheap price. Moreover, the quality is best. It is hard to find a good Bluetooth board at less price. Thus, come to us for the best thing. Do not go with the old hoverboard. Why? Because now we are giving Bluetooth hoverboards at a cheap price. Hence, get your board from our bundle deal or sale. It is a good chance to get your hoverboard at less price.
Why buy only Swegway Bluetooth hoverboard?
We are selling hoverboards for a long time. Furthermore, we have the best quality boards. We do not want you to buy bad quality hoverboard. But it is hard to get a Bluetooth board cheap. Thus, do not worry! We give you the best Bluetooth hoverboard at less price. Come to us and get your favorite. Ride it and listen to your favorite songs. Buy only from UK Segboards because we have the best quality hoverboards.
Is Segway Bluetooth hoverboard worth buying?Yes, it is! It is hard to find a good board at less price. But with us, you get the best at less price. You also should buy a Bluetooth hoverboard because it is a new thing. Go to your friend's house or the shop only on a hoverboard. Moreover, enjoy hearing your favorite song while riding it. Swegways Bluetooth hoverboard is easy to ride and is cheap also. Thus, buy it today and enjoy riding outside
Does Swegway Bluetooth in hoverboard work fine?Are you worried the Bluetooth does not work? If you don't buy Bluetooth hoverboard from UK Segboards then it will be a problem. Our Bluetooth hoverboard is the best. You do not have to worry about listening to songs. Thus, use your phone to play songs and listen while riding. Furthermore, riding Segway Bluetooth hoverboard is easy too. Our Bluetooth on the hoverboard works great. It won't be a problem. Hence, be happy and enjoy it!
Is Segway Bluetooth hoverboard expensive?
Our hoverboard is cheap than other hoverboards. We give you the best quality at a cheap price. This is why; we have a good Bluetooth hoverboard at less price too. If you do not have more money, do not worry. Come to us and get a cheap Bluetooth hoverboard. Moreover, we want you to enjoy it. Thus, this is why our price is cheap. Do not go anywhere else if you want a cheap Bluetooth hoverboard.